1. Shipping Carriers
We cooperate with DHL ,UPS,FEDEX, TNT,EMS,HongKong Post and Singapore Post for our OLED & LCD displays shipment and choose the most appropriate one for the destination .
2. Shipping Time
Please use the chart below to help how long it will take to recive your order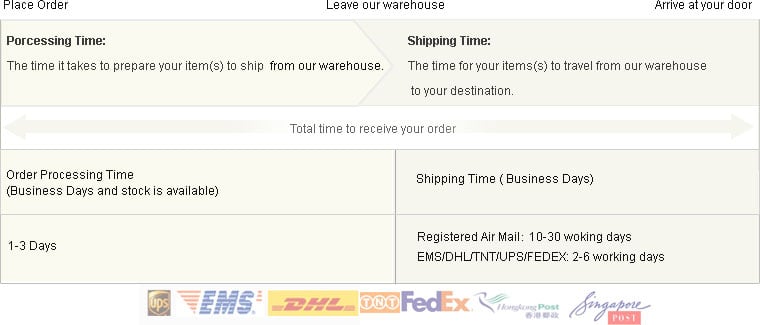 3. Rates
A shipping cost estimate is displayed during online checkout based on the "Ship to" address you provide. If that estimate is significantly lower than the actual cost determined after your order is packed, we will notify you by email and wait for your approval before shipping.If significantly higher,we will reduce your shipping charge.
4. Charge for Packages Returned or Rerouted
In addition to the original shipping cost, we charge you for packages returned to us or that require rerouting when caused by your error (for example,providing an incorrect shipping address) or refusal of a package.
5.Customs and Import Duties
Customs fees and import duties for exports are your responsibility. We cannot predict or prepay these fees.We will charge you for any duties or customs fees erroneously charged to us.
1.Selecting the Part You Need
We have complete specifications in each product's manual or datasheet. To ensure that a product will meet your requirements, please read its manual or datasheet, available in PDF format on every product page of our website. If you have any questions after that, we provide free technical support by email (sales@buy-display.com).
2.Repair or Replacement for Defective Products
Products under warranty may be returned for repair or replacement. For more information on the warranty,please see our limited warranty.Before returning a product, you must obtain a Return Material Authorization (RMA) number from our sales (sales@buy-display.com).If you have a product out of warranty that you would like repaired, please also contact with our sales.
3.Returning Non-Defective Products
We will only consider return requests when the request is made within 30 days of delivery. There is a restocking fee of up to 30% of the purchase price depending on the circumstances. You can avoid a restocking fee by reviewing your order confirmation to ensure the correct parts have been ordered. Shipping charges are nonrefundable.
4.How to Return a Product
4-1. First request an RMA number from our sales with the information:Part number , Reason for return , Original order number.
4-2. Our sales will then either issue an RMA number, ask you for more information, or offer to help you resolve a technical problem so that the product does not need to be returned. Products must arrive here in the same condition as when you received them.
4-3. You are responsible for return shipping and insurance. Please make sure your RMA number is on the shipping label and on any documents you include with the product.
4-4. After we receive the product, we inspect it to determine the cause of any defect, then update by email with our findings. This process usually takes five business days.